What is payment experience?
Is monitoring poor payers also such an annoying and time-consuming task? With our free module "Payment experience", you can now easily detect them in advance. This feature helps you to assess how quickly a company pays its open invoices. Therefore, you are aware whether a customer or prospect is a poor payer and you can make a conscious decision not to conclude a contract or to apply stronger payment conditions.
You can easily and securely share the payment behaviour of your customers with Companyweb. Your data and that from many other companies is gathered and processed anonymously, discreetly and confidentially. This is in order to give you a complete insight into the payment behaviour of your customers or prospects and thus minimise the risk of unpaid invoices.
Your advantages
You know beforehand whether your customer or prospect is a poor payer
How quickly customers pay other suppliers is easy to understand
You minimise the risk of non-payment.
Simple visual representation
No special knowledge required
Free of charge
HOW TO PARTICIPATE?
To use the Payment Experience feature, you must have a Companyweb subscription. Curious about what more Companyweb has to offer? Start a free trial and get started right away.
TRY FOR FREE
What does payment experience look like?
On the detail page of every company, the Payment Experience bar is located under the Credit Limit. When clicking on "View details", the summary of how well the company pays their invoices will be displayed. View an example.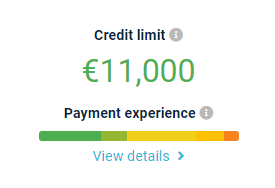 Exact Online – Payment Experience

Dynamics 365 Business Central

Odoo

Sage 100

Sage Bob

LISA ERP

Dave

Adsolut

Briljant

Expert/M

Vero

Wings

Carfac

Organi Oras

Octopus

Winbooks

Venice

Adfinity

BouwOffice Finance

Mercator

WinAuditor

BoCount Dynamics

Digon - MFS

Microsoft Dynamics Navision

Top Account